HOROSTEN®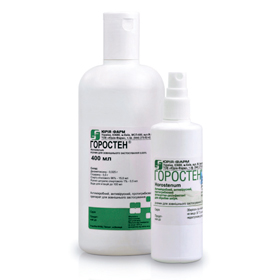 Active ingredient is a well-known and highly active antiseptic decamethoxine,
which has a wide spectrum of antibacterial, antiviral, antifungal and antiprotozoal effects.
The product does not cause allergies due to the desensitizing action of decamethoxine.
Excipients:
   •   glycerin — skin softener and hand moisturizer;
   •   citral — adds lemon flavour;
   •   15 % alcohol — does not cause skin dryness, accelerates evaporation.
The product also has:
   •   anti-inflammatory,
   •   desensitizing, and
   •   antispasmodic action.
Prophylactic use of HOROSTEN® in health care facilities is indicated for:
   •   hand disinfection of personnel of health care facilities for prevention of spreading of transient microflora;
   •   treatment of hands of medical personnel before and after such medical procedures as:
       – injections;
       – wound dressings;
       – handling of respiratory devices;
       – catheterization;
       – dealing with blood, patient secretions, contaminated linen, and
       – after contacts with contaminated material.
Therapeutic use of HOROSTEN® is indicated for:
   •   treatment of skin areas affected by staphylococcal and streptococcal impetigo and adjoining areas for elimination of inflammations;
   •   prevention and treatment of pressure ulcers;
   •   decontamination of microtraumas, skin wiping after depilation and shaving, treatment of scratches and abrasions;
   •   treatment of postoperative wounds, since the product:
       – reduces the duration of wound healing, 
       – accelerates regeneration of granulation tissue, and
       – enhances epithelialization;
   •   processing of urinary catheters, as glycerin facilitates catheterization and decamethoxine prevents infection of the urethra and bladder.
Would you like to buy a Horosten antiseptic in Ukraine?
Order on one of the sites:
Sales markets
Азербайджан, Молдова, Таджикистан, Україна.