3rd All-Ukrainian Infusion Therapy Olympiad accomplished!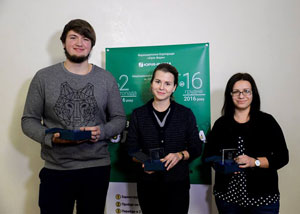 It is already third time when Yuria-Pharm Corporation and Bogomolets National Medical University have organized All-Ukrainian Infusion Therapy Olympiad for students and interns. The aim of the event is search and support of talented youth, propaganda for efficient use of infusion therapy, development of future high-qualified, competent and reliable doctors. Students of all the medical higher educational establishments of Ukraine take part in the Olympiad. In 2016, interns also received a possibility to participate in the occasion.
3rd All-Ukrainian Olympiad took place in the period from November 2nd till December 16th, 2016 in several steps. The first step was held online. All registered students and interns could do test tasks in terms of the first step. Subject to the results of the step the winners moved to the second classroom-based step which was organized in 5 Ukrainian cities at once – in Kharkiv, Lviv, Rubizhne (Luhanska oblast), Dnipro and Kyiv in the premises of local higher educational institutions. Testing was accompanied with discipline-related round tables with participation of professors and scientists who helped students and interns to get more involved into the topic of currently popular infusion therapy.
In general, more than 500 students and interns from more than 15 medical universities registered for participation in the Olympiad. 15 best and brightest students and interns reached the final.
Winners of the second round were competing for three medal places on December 15th, 2016 in Bogomolets National Medical University. Nataliia Virchenko, the student of ZSMU, took honestly the first place, the second one was awarded to Stepan Maruniak,  the intern from Shupyk National Medical Academy, and the third place was granted to Iryna Zabiiaka from SSU. It is pleasant to note that more than 30 percent of participants and finalists participated in the Infusion Therapy Olympiad more than once, thus proving real interest of young generation to the topic.
The Infusion Therapy Olympiad for students and interns is certain extension of another large-scale event for medical community and scientists – International Infusion Therapy Congress. 2016, the Congress, whose title sponsor is Yuria-Pharm, gathered record number of attendees and participants: almost 3000 doctors and nurses.
Yuria-Pharm Corporation is planning to hold the Forth Olympiad and organize First Infusion Therapy Olympiad for medical nurses at the assistance of MHC of Ukraine.