Yuria-Pharm Corporation appeared to be a partner of 10th International Conference of Ukrainian Charity Providers' Forum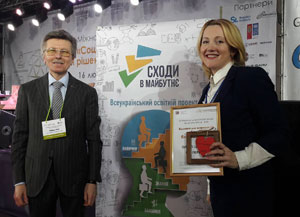 February, 16, 2017, Yuria-Pharm Corporation approved repeatedly its status of socially-responsible company by supporting 10th International Conference of Ukrainian Charity Providers' Forum
10th International Conference of Ukrainian Charity Providers' Forum is the largest annual event in Ukrainian charity sector, which supports charity issues essential for society.
Annually, the event unites leading experts, officers and managers of the largest charity funds and organizations actively implementing the projects in CSR sphere, as well as public officials, mass media, research centers. This time, the conference was based on the subject "Social innovations: new solutions for old problems".
The conference organizers set a goal to analyze innovate potential of Ukraine and possibility for its implementation, initially, by philanthropic organizations to improve life quality within the country.
Social innovations were considered in 5 dimensions:
1 – Education. Experiments. Creativity.
2 – Vision. Values. Leadership
3 – Communications. Partnership. Networking.
4 – Models. Practice. Expertise.
5 – Standardization. Assessment. Legal environment.
During the panel discussion "Vision. Values. Leadership" Ihor Naida, HR-director of Yuria-Pharm Corporation, considered issues of new leadership forms and their impact on reaching social influence.