Yuria-Pharm Corporation Was the First to Respond and Grant Humanitarian Aid Amounted to UAH 350,000 to the Residents of Odessa Region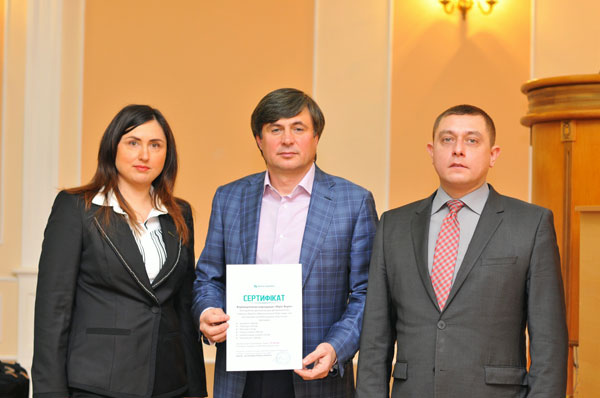 On January 27, the certificates for medicinal products amounted to UAH 350,000 in total were provided by Yuria-Pharm at the briefing in the City Council of Odessa.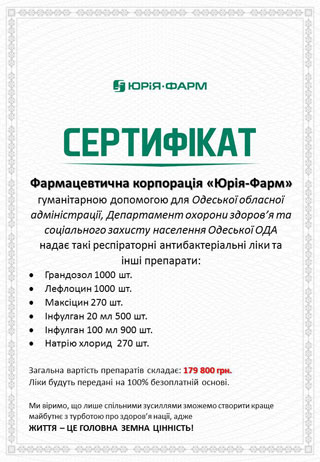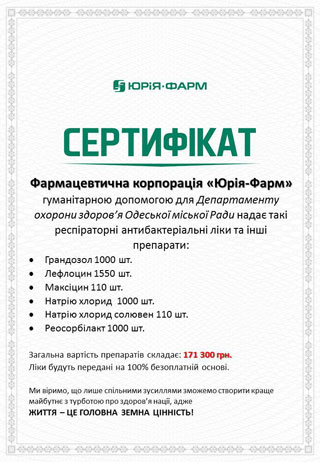 The influenza and ARVI sick rate has been growing in Ukraine since December. Unfortunately, the latest data demonstrate that more than fifty people have already died of influenza and its consequences. There is a complicated situation in the south of Ukraine, in particular in Odessa Region.
"The Health Care Department of the Odessa City Council applied to the Association of Pharmaceutical Manufacturers of Ukraine for charity aid in order to stabilise the influenza situation in Odessa. Being a socially responsible national company, Yuria-Pharm, Corporation responded immediately," comments Olga Ivanovna Belaya, the Director of the Southern Representative Office.
Thus, the Region of Odessa received the first part of aid for ten health care institutions of the City of Odessa amounted to UAH 170,000. The transfer of the equivalent batch of modern infusion solutions and respiratory anti-bacterial products amounted to UAH 180,000 to the Health Care and Social Protection Department of the Odessa Regional State Administration in the Regional Hospital is planned for January 29.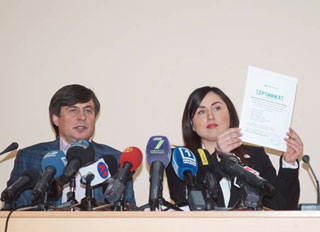 Igor Viktorovich Shpak, the Director of the Health Care Department of the Odessa City Council, noted publicly, in presence of all TV channels of the Region of Odessa, that Yuria-Pharm was the first and only Ukrainian company which did not ignore the problem and thanked for its charity support.
"As the mission of our company is to preserve and improve life, we will keep granting necessary aid by saving lives with the medicinal products and medical devices we produce," repeatedly said Igor Vladimirovich Nayda, the HR Director of Yuria-Pharm.