"Yuria-pharm" presented directions of charity work for total uah 27 mln.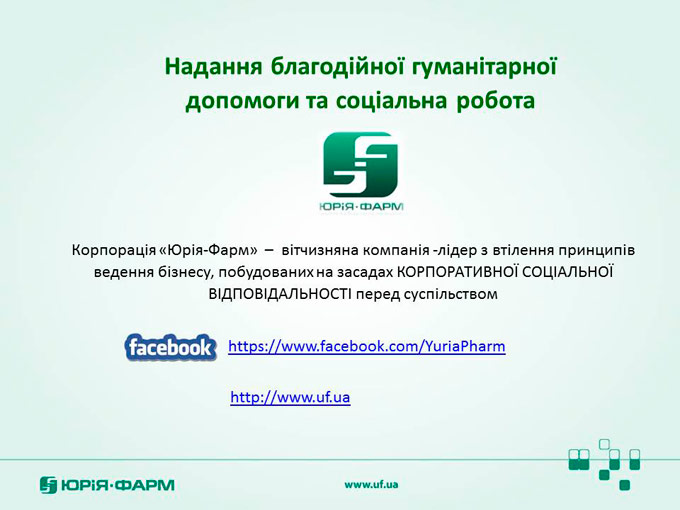 Targeted aid, support of medical institutions, training programs represent only some directions of charity work undertaken by the Corporation. During 2011 – 2017, total amount of charity expenses comprised more than UAH 27 mln. Representatives of the Corporation presented plans for developing social responsibility of the Corporation and actual projects at press conference, taking place on March 16, 2017 in Ukrainian Crisis Media Center.
Ihor Naida, HR-Director of Yuria-Pharm, outlined plans of the Corporation`s activity, including projects of patriotic and social development, which would establish foundation of sustainable development for the whole country in long-term perspective. "Patriotic and educational projects for us are as important as our specialized support exclusively for medical establishments, as we are all the citizens wishing to live in developed and economically successful country. Basis for our social responsibility is philosophy of the Corporation", specified Mr.Naida. 
Charity work, connected to ATO needs, is the most large-scale. Inna Levents, Specialist in HR-brand development of the Corporation, specified that the Corporation provides targeted aid to families of medical workers, deceased ones under military actions, some oncologic centers (particularly, in Cherkasy City), boarding school No.17 in Kyiv City, as well as with own produced medicines and medical products of the Corporation. One of the featuring projects of Yuria-Pharm is re-equipment of military APC into ambulance car for evacuation and provision of medical aid to injured precisely on battle field. One of the main achievements of the Corporation is production of innovative blood spine product Revul, supplied to military units. Permanent partner of the Corporation is public platform "People help people", which provides support to families of deceased ones during the Revolution of Dignity and military action in the East of the country. Thanks to the unique methodology (money is donated via web-site without middleman), every person interested can help one or several families. Yuria-Pharm supports the Platform in realizing such initiatives as holding auction of children`s creative works, issue of the book "For huge hearts from small ones", organization of New-Year`s children fests and training for volunteers. Over the period of cooperation with the Corporation, the families received the charity support from Yuria-Pharm to the amount close to UAH 1,8 mln.
Iryna Mikhniuk, member of Supervisory Board of the organization "People help people": "We do not have intermediary accounts, money of charity entities are transferred directly to the account of the family, whose profile is located on the platform web-site. Crediting and allocation of the money is under the strict control of coordination board, whose members are the wives of the deceased ones. Currently, the platform gives its priority exclusively to children".
Another project realized thanks to Yuria-Pharm Company is All-Ukrainian Education Platform "Stairs to the Future". This organization deals with creation of projects for informal education. Since its foundation, "School of Leadership, Management and Autonomy", "School of Patriotism" and "School of Journalism and PR" were started.
Yulila Zaitseva, coordinator of the platform "Stairs to the Future": "By developing human capital, we make investment into the state and future generations. Pharmaceutics and journalism are not so distanced from one another, as in both cases we mean the quality of materials, transparency of "production" and understanding of responsibility for own actions. We realize that university does not only grant education, for example, to medical workers. We have a chance to help young people  become leaders, managers, be capable to develop oneself and Ukraine, that is why we hold free training events all around the country – trainings, seminars, round tables, webinars, etc. Our main focus involved active young people ready to transform the state".
Yurii Melnychuk, coordinator of the School of Patriotism: "With support of Yuria-Pharm we are realizing one of the important directions – we renovate traditional Ukrainian family, namely patriotism, cultivated in family. We transfer it to other events, particularly, we hold water and horse ridings, disputes, historical quests". During the cooperation with Yuria-Pharm in terms of the School of Patriotism, we issued range of textbooks for preschoolers, young students and pupils, in particular, "We are of Cossacks origin", "School of Patriotism" and research work "With unbroken spirit" being popular among ATO soldiers.
Yuria-Pharm is planning to continue cooperation with organizations over project direction, further cooperation with youth, medical workers, managers.