Artro-Patch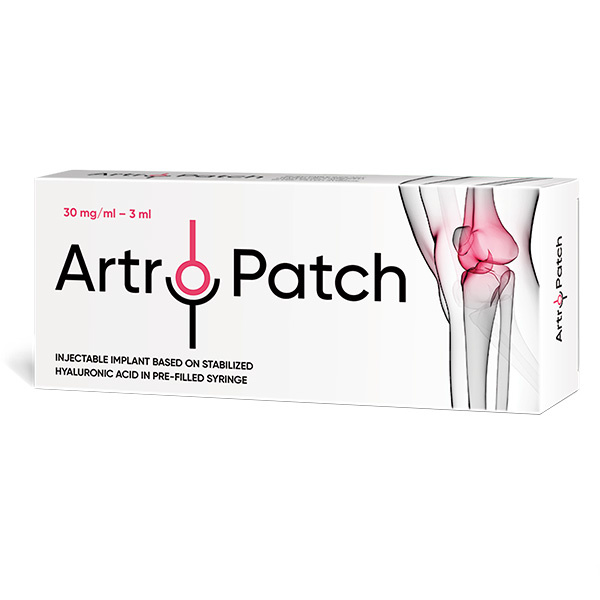 MODERN SOLUTION FOR VISCOSUPPLEMENTATION
ARTRO-PATCH is a biologically inert gel based on stabilized (cross-linked) hyaluronic acid, designed for intra-articular administration to restore the visco-elastic properties of synovial fluid in traumatic and degenerative lesions of the synovial joints, manifested by pain syndrome and/or reduced mobility.
Visco-elastic properties of Artro-Patch are as close as possible to the properties of syno­vial fluid of a healthy person
The volume of gel Artro-Patch is 3.0 ml, which is sufficient for a full replace­ment of the entire volume of synovial fluid of the knee joint
The absence of components of animal origin in the composition of Ar­tro-Patch
Molecular weight of hyaluronic acid before stabilization – 2.3 million Da
The special technology of «soft crosslinking» of hyaluronic acid allows to achieve the crosslinking coefficient of 0.18%, which minimizes the adverse effects of additional chemical compounds used to stabilize hyaluronic acid
Single injection for the treatment course
Instruction
INSTRUCTIONS FOR USE
of medical device
Injectable implant based on stabilized hyaluronic acid
ARTRO-PATCH
Composition
Injectable implant based on stabilized hyaluronic acid, 20 mg/ml – 2 ml.
2 ml volume contains:
Sodium hyaluronate – 0 mg
Phosphate buffer pH 2-7.4 – to 2.0 ml
Injectable implant based on stabilized hyaluronic acid, 20 mg/ml – 4 ml.
4 ml volume contains:
Sodium hyaluronate – 0 mg
Phosphate buffer pH 2-7.4 – to 4.0 ml
Injectable implant based on stabilized hyaluronic acid, 30 mg/ml – 2 ml.
2 ml volume contains:
Sodium hyaluronate – 0 mg
Phosphate buffer pH 2-7.4 – to 2.0 ml
Injectable implant based on stabilized hyaluronic acid, 30 mg/ml – 3 ml.
3 ml volume contains:
Sodium hyaluronate – 0 mg
Phosphate buffer pH 2-7.4 – to 3.0 ml
Contents of packaging
Each package contains a Luer-Lock syringe with pre-filled injection implant based on stabilized hyaluronic acid ARTRO-PATCH. Each package contains two 21G×1½" needles for the syringe. The implant volume in the syringe and the concentration are indicated on the carton package.
Description
ARTRO-PATCH is a colorless transparent viscous gel based on hyaluronic acid of non-animal origin stabilized by the cross-linking method. Sterile, pyrogen-free, with physiological pH level.
Mechanism of action
Hyaluronic acid is a natural polysaccharide (glycosaminoglycan), which is an essential structural element of connective tissue of skin and synovial fluid.
ARTRO-PATCH is a biocompatible prolonged action injectable implant with visco-elastic properties, acts as a shock absorber, stabilized gel, which restores joints mobility.
Intended purpose
ARTRO-PATCH is indicated for temporary replacement of synovial fluid (viscosupplementation) to reduce clinical signs of osteoarthritis.
Indications
Mild to moderate osteoarthritis – to reduce pain syndrome and increase joint mobility.
Contraindications
Individual hypersensitivity to any component of medical device.
Injured and infected skin in the area of application of the medical device.
Infectious lesions of the joint, active rheumatoid arthritis, ankylosing spondylitis.
Dysfunction of blood coagulation.
Age under 18 years.
Target group (population)
Individuals (over 18 years old) who need to reduce clinical signs of osteoarthritis.
Method of use
This medical device is intended for intra-articular injections only and may only be administered by physicians with appropriate experience and medical education, as well as knowledge of the technique to perform intra-articular injections. It is recommended to inject the implant using the needles contained in the package.
Before the procedure, the doctor is obliged to acquaint the patient with the instructions for use and inform about the predicted result of therapy and the potential risks associated with the medical device application.
Attach the label with the product data (batch number and expiry date) to the Medical Record of the patient undergoing the procedure.
Before the implant injection in the presence of effusion in the joint, it should be aspirated and appropriate therapeutic measures should be taken.
The aseptic conditions should be adhered to strictly when performing the intra-articular injections. Prior to procedure, the area of the implant injection should be thoroughly disinfected.
If necessary, local and regional anesthesia may be used. In this case, you should follow the instructions for use of these medications.
Remove the syringe with ready-to-use implant out of the package, carefully unscrew the rubber cap from the syringe and attach the needle tightly. Remove the protective cap from the needle.
The contents of the syringe should be used immediately after opening the package.
In case of impaired needle injectability and difficulty of the implant injection, terminate the procedure and replace the needle.
If possible, it is recommended to carry out intra-articular injection under the control of ultrasound.
ARTRO-PATCH is administered into the affected joint via injection. The treatment course consists of a single injection. If necessary, a repeated course may be prescribed in 6 months.
The concentration and volume of the medical device are selected by the doctor individually, taking into account the clinical situation of the patient and the joint size.
Adverse reactions
Local reactions: redness, warmth sense, rash, swelling, bleeding and hematoma, itching, minor pain at the injection site.
Hypersensitivity reactions, including allergic synovitis.
Appearance of acute pain or significant exacerbation of the pain syndrome can be observed when the medical device is injected into the meniscus, fatty body, intra-articular ligaments.
In case of violation of technique of intra-articular administration of the medical device, fibrosis, skin and soft tissues necrosis may occur.
Individual reactions due to the invasive procedure, such as dizziness, high blood pressure, headache, slurred speech are possible to appear.
In the event of any adverse reactions, the medical device should be discontinued immediately and the physician and the manufacturer should be informed.
Limitations, precautions and warnings
Should not be used for other forms of administration, except for intra-articular administration only.
During a week before the procedure, patients should not take medicines that may affect blood clotting function (e.g. acetylsalicylic acid, anticoagulants). This may cause hemorrhagic complications during the procedure. When necessary, for example, if the patient is treated with medicines of such type, one should consult a doctor.
Use with caution in patients with venous or lymphatic stasis of extremities.
Extreme caution is recommended when administering the medical device in the area of ​​anatomical projection of nerves and their plexus. Violation of the implant injection technique in these areas may lead to traumatic damage of the peripheral nerves, increased pain, impaired sensitivity and development of paralysis in the corresponding areas of innervation.
Avoid injection of the medical device into tenosynovial muscle membranes, located near the injection site, which may cause the increase of the pain syndrome, movement disorders in the affected joint and adjacent joints.
Use with caution in patients with a history of chondrocalcinosis, since the injection may lead to disease exacerbation.
It is recommended to avoid excessive physical exertion on the joints, such as: playing tennis, jumping, football, etc. for 48 hours after the procedure.
It is recommended not to expose the injection site to intense heating or cooling during the first 48 hours after the injection.
No clinical data is available regarding the tolerance of ARTRO-PATCH by pregnant or breastfeeding women, thus ARTRO-PATCH should not be used in women who are pregnant or breastfeeding.
Injectable implants ARTRO-PATCH should not be co-administered with quaternary ammonium salts (benzalkonium chloride). Avoid contact of the medical device with these types of agents (for example, avoid treating the skin with such agents before or after the procedure), as well as with medical instruments that are processed with such agents.
Failure to observe aseptic conditions during the procedure may cause the infection of joint (-s) and development of septic arthritis.
Prior to application, verify the package integrity and check its shelf life on a label. Do not use the implant after the expiration date or if the package integrity is failed.
The implant is intended for a single use only. Do not re-use.
Do not mix with other medical devices, medicines or other substances.
Do not resterilize.
Dispose the used needles and syringes according to the requirements of local disposal regulations.
Do not try to straighten a curved needle; it should be replaced with a new one.
Storage conditions
Store in a dry place protected from sunlight out of reach of children at a temperature of +2 °С to +30 °С. Store in a sealed original package. Do not freeze.
Shelf life
2 years. Shelf life is valid if the storage conditions are observed and the package is not damaged.
Authorized representative in the European Community
Diaco Biofarmaceutici S.R.L.
Via Flavia, 124, 34147, Trieste, Italy.
E-mail: info@diaco.it.
www.diaco.it
Name and address of the manufacturer
Yuria-pharm LLC, 10, M. Amosova Str., Kyiv, Ukraine, 03038.


Tel.: +38 (044) 275-92-42, +38 (044) 275-01-08.
E-mail: uf@uf.ua
www.uf.ua
Manufacturing site address: 108, Kobzarska Str., Cherkasy, Ukraine, 18030.
If you have any comments on the medical device or would like to give us feedback, please use the following options to contact us:
email us at feedback@uf.ua;
send a text message via Viber, Telegram or WhatsApp to the number: +38 (095) 275-33-01;
call us at +38 (095) 275-33-01 or +38 (0800) 401-771 (charged in accordance with your operator's tariff plan).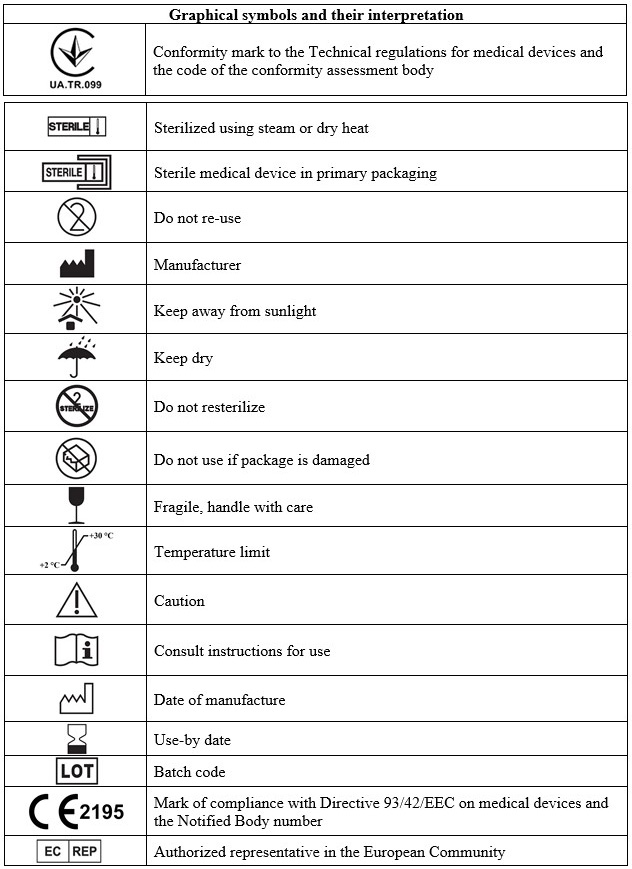 Date of last revision of instructions for use: 08.12.2022.
Version: 06.
Other drugs in this category