Instylan
INSTYLAN: colourless, transparent, viscous hyaluronic acid gel of non-animal origin, sterile, non-pyrogenic, with physiological pH for intravesical irrigation.
INSTYLAN is a viscoelastic protector of intercellular substance in bladder and urethra urothelium.
Composition:
INSTYLAN 0.16 %, 50 ml pre-filled disposable plastic bag with a urethral catheter nozzle:
Sodium hyaluronate – 80 mg.
Phosphate buffer pH 7.3 – up to 50 ml.
DOUBLE BAG IS DESIGNED FOR USE IN STERILE CONDITIONS.
Sales markets
Ukraine, Uzbekistan, Kazakhstan, Great Britain, France, Greece, Spain, Canada, Morocco, Turkey.
Instruction
INSTRUCTIONS FOR USE
of medical device
Sterile solution for intravesical irrigation based on hyaluronic acid
INSTYLAN
Composition
50 ml of sterile solution for intravesical irrigation based on hyaluronic acid INSTYLAN 0.16% contains:
Sodium hyaluronate – 80 mg
Phosphate buffer pH 7.3 – up to 50 ml
Contents of packaging
Polymer bag with a nozzle for the urinary catheter in a carton.
Description
INSTYLAN is a colorless, transparent, sterile solution based on hyaluronic acid of non-animal origin with physiological pH.
INSTYLAN is a viscoelastic protective agent of the intercellular substance of vesical and urethral urothelium.
Mode of action
Hyaluronic acid is contained in all tissues and is the most significant component of the intercellular matrix and thus constitutes a significant part of the glycosaminoglycans of the urothelium of the bladder and urethra (urinary tract).
INSTYLAN is indicated for restoration of the protective layer of the bladder mucosa after invasive interventions (such as cystoscopy, transurethral resection of the prostate, ureteroscopy, etc.) and in deficiency of a layer of glycosaminoglycans to reduce the clinical manifestations of cystitis of various etiologies, painful urinary bladder syndrome.
Indications
Recurrent bacterial cystitis.
Interstitial cystitis.
Painful urinary bladder syndrome.
Hemorrhagic cystitis.
Radiation cystitis.
Chemotherapy-induced cystitis.
Contraindications
Hypersensitivity to any of the medical device constituents.
Pregnancy and breastfeeding.
Age under 18 years.
Target group (population)
Patients over the age of 18 who require relief of clinical manifestations of cystitis of various etiologies and painful urinary bladder syndrome.
Method of use
Prior to use, the bag with the solution should be warmed to body temperature. The solution warmed to body temperature reduces the patient's discomfort. This procedure should only be carried out using dry heat (for example, heating pad or hot plate). The solution should not be heated in water due to increased risk of contamination. To avoid potential damage to the polymer bag and damage or discomfort to the patient, the solution should not be heated in the microwave.
Before administration of INSTYLAN, the bladder should be emptied.
Strict aseptic rules should be followed during the entire procedure.
INSTYLAN is injected into the bladder cavity by means of a urinary catheter. After administration of the solution, the catheter is removed. The recommended retention time of the solution in the bladder lumen is 30 minutes to 2 hours. Then the bladder should be emptied physiologically.
INSTYLAN is intended for intravesical administration, once weekly. The course is 4 to 12 instillations.
Adverse reactions
Hypersensitivity reactions. In rare cases: bladder irritation, bladder cramps, dysuria, pain, diarrhea, dizziness.
In case of any adverse reactions, you should immediately stop using the medical device and inform the doctor and the manufacturer.
Limitations, precautions and warnings
Use INSTYLAN according to the instructions for use. Do not use in other ways than described in these instructions for use of medical device.
Before using the medical device, check the integrity of the packaging and the expiration date. Do not use the device if the primary packaging is damaged or if the expiration date has expired.
The device is intended for single use only. Do not re-use.
Do not use the same package for multiple patients.
Dispose according to the local medical waste disposal requirements.
Storage conditions
Store at +5 °C to +30 °C, protected from sunlight. Do not freeze. Keep out of reach of children.
Shelf life
2 years. The expiration date is valid subject to storage conditions in an intact package.
Name and address of manufacturer
Yuria-pharm LLC, 10, M. Amosova Str., Kyiv, Ukraine, 03038.
Tel.: +38 (044) 275-92-42, +38 (044) 275-01-08.
E-mail: uf@uf.ua
www.uf.ua
Manufacturing site address: 108, Kobzarska Str., Cherkasy, Ukraine, 18030.
If you have any comments on the medical device or would like to give us feedback, please use the following options to contact us:
email us at feedback@uf.ua;
send a text message via Viber, Telegram or WhatsApp to the number: +38 (095) 275-33-01;
call us at +38 (095) 275-33-01 or +38 (0800) 401-771 (charged in accordance with your operator's tariff plan).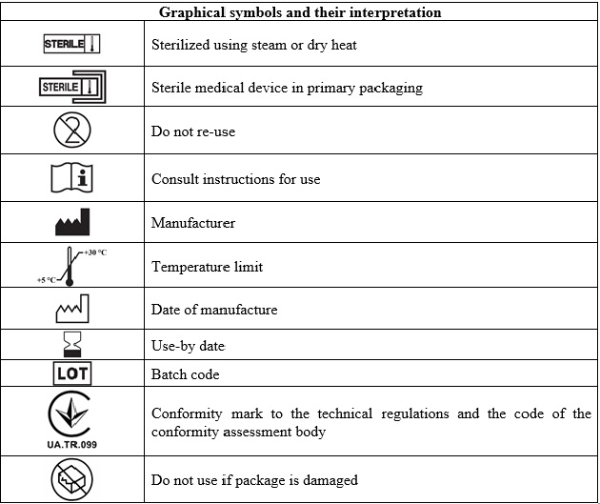 Date of last revision of instructions for use: 16.05.2023.
Version: 05.
Other drugs in this category