Formoterol Isiheiler®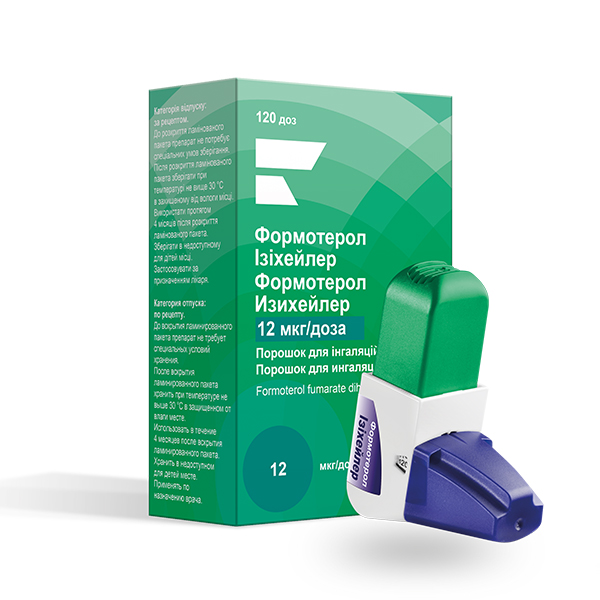 FORMOTEROL ISIHEILER® contains formoterol, which are in the form of a dry powder for inhalation in a metered dose inhaler Easyhaler®.
FORMOTEROL is a selective β2-adrenergic receptor stimulant. In patients with reversible airway obstruction, it has a bronchodilatory effect. This effect develops quickly (within 1-3 minutes) and remains quite pronounced 12:00 after inhalation of the drug.
EASYHALER® is a multi-dose dry powder inhaler, an effective and at the same time easy-to-use inhaler for the treatment of chronic diseases of the respiratory system.
A key feature of the Easyhaler® Inhaler is the design of the device, which is designed to be comfortable to use and to meet patient requirements and to provide high clinical efficacy.
The Easyhaler® range is designed with the need for different medicines at different stages of the disease so that patients can be treated with Easyhaler®, a friend's easy-to-use inhaler.
Indications:
Treatment of bronchial asthma in patients using inhaled corticosteroids or in need of long-acting β2-agonist treatment
To reduce symptoms of airway obstruction in patients with chronic obstructive pulmonary disease (COPD) requiring long-acting β2-agonist treatment
YURIA-PHARM and ORION, within the framework of a strategic partnership, jointly present a product and carry out projects related to the development of treatment of chronic diseases of the respiratory system.
How supplied:
Powder for inhalation, 1 dose contains formoterol fumarate dihydrate 12 mcg, 120 doses in the inhaler.
Other drugs in this category