Ornigil®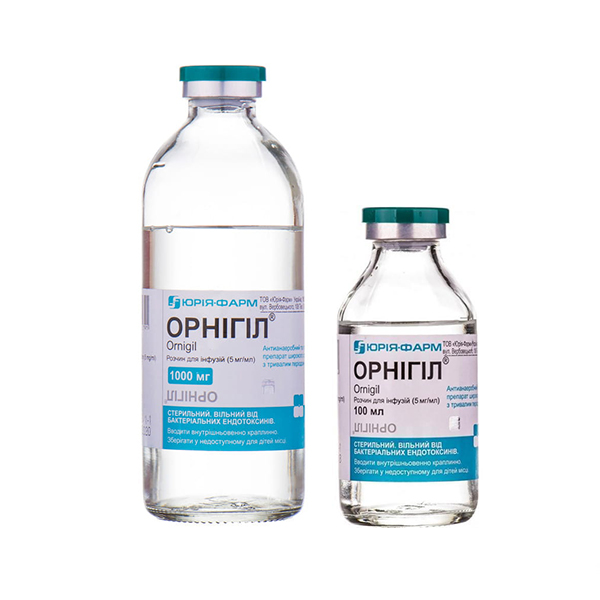 Ornigil® – well beyond Metronidazole!
Ornigil® – next-generation antibacterial imidazole pharmaceutical.
It is used for treatment and prevention of anaerobic infections in surgical, obstetric and trauma practice; systemic anaerobic infections (septicemia, meningitis, peritonitis, endometritis, etc.), trichomoniasis and infections caused by protozoa (giardiasis, amoebiasis, amoebic dysentery, liver abscess).
Ornigil® has essential advantages compared to metronidazole:
there is no cross-resistance to metronidazole (trichomonas are by 90 % resistant to metronidazole);
frequency of adverse effects does not exceed 3.7 % (frequency of adverse effects for metronidazole reaches 59 %);
effectiveness of prostatitis and trichomoniasis treatment reaches 99 % (effectiveness of metronidazole is close to 10 %);
convenient administration regimen Ornigil® – 1000 mg once daily or 500 mg twice daily (metronidazole administration regimen is 500 mg thrice daily or more frequently).
Metronidazole has been used in clinical practice for more than 40 years, and it is not surprising that resistance of microorganisms to the drug is increasing progressively. Increased resistance results in decreased effectiveness of treatment.
New time demands new effective solutions!
Sales markets
Azerbaijan, Georgia, Kyrgyzstan, Tajikistan, Uganda, Uzbekistan, Ukraine.
Other drugs in this category