U-BOX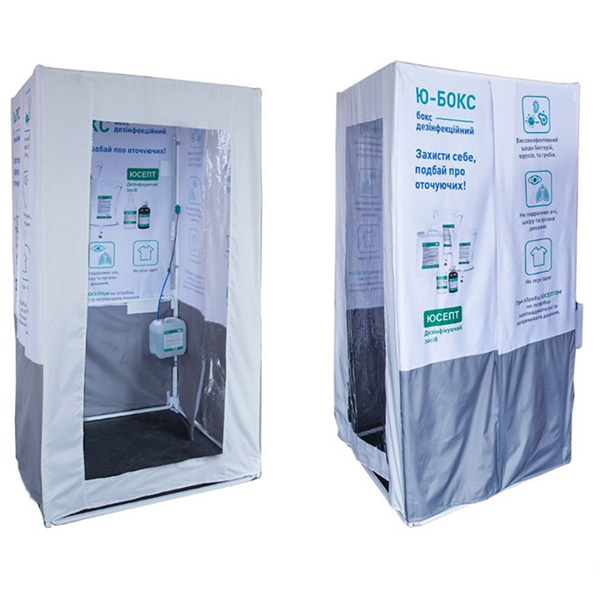 U-BOX is a mobile disinfection box, aerosol spraying system, officially certified in Ukraine as a medical device.
U-BOX is a closed system consisting of a portable transparent box with an aerosol installation placed inside, capable of a short period of time (8-10 s) to carry out non-specific disinfection of the surface of clothing, as well as open parts of the human body inside, with a disinfectant agent.
The U-BOX system uses a USEPT® or DEKASAN® solution with a decamethoxin concentration of 0.2 mg/ml as a disinfectant.
U-BOX is intended for the disinfection of clothing and exposed parts of the body of people in:
healthcare institutions and medical and prophylactic institutions of all profiles;
laboratories of various subordination;
pharmacies;
health and fitness facilities for adults and children;
educational institutions;
preschool institutions;
institutions of social protection;
restaurants and trade establishments;
on rolling stock and facilities for all types of transport;
at enterprises, etc.
Purpose:
To carry out non-specific prophylaxis and disinfection measures at epidemically significant facilities, the activities of which require sanitary standards and rules compliance.
For disinfection of clothing and exposed parts of human body.
Release form:
U-BOX is a collapsible construction, which has the following overall dimensions: 1000 × 1000 × 2000 sm.
Specifications:
Processing cycle: 8 s
The number of cycles, depending on the form of release and the volume of the disinfectant USEPT® or DEKASAN®:
Polymer or glass bottle 200 ml ~ 16 cycles;
A bottle of polymer or glass 400 ml ~ 32 cycles;
Polymer canister 5 L ~ 415 cycles.
Terms of use:
Extract from the register: