Diaco is an antiseptic hand spray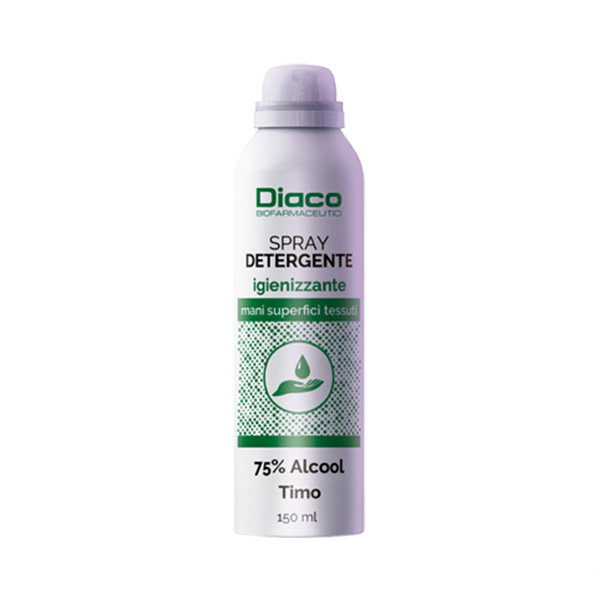 Aerosol composition:
denatured (ethyl, medical) alcohol – 75%;

water for injection – 24.9%;

thyme flavoring without allergens – 0.1%.
Release form and physical and chemical properties of Diaco:
it is a ready-to-use, broad spectrum hand cleaning spray with a quick disinfecting effect. Has a pleasant scent of thyme. Due to its 75% alcohol and thyme content, the product helps to quickly and effectively destroy bacteria, viruses and fungi. Gently acts on the skin of the hands, leaving it fresh and soft.
Safe for daily use, no rinsing required. Lightweight and easy to use.
Diaco is indicate for:
daily hand disinfection, cleans from potentially dangerous bacteria, viruses and fungi, while maintaining the protective functions of the skin;

disinfection of the skin of the hands in all cases associated with an increased risk of infection and spread of microorganisms hazardous to health.
Aerosol system "Bag on Valve" allows you to spray the product avoiding the formation of halos (clothes, shoes, furniture, etc.).
"Diaco spray – safety with a velvety feel"
antiseptic with Italian charm

leaves a pleasant smell of thyme

gives a velvety feeling to the skin of the hands

aerosol ensures even spreading

thyme extract cares for the skin of the hands
Sales markets
Ukraine, Italy
Other drugs in this category