Yusept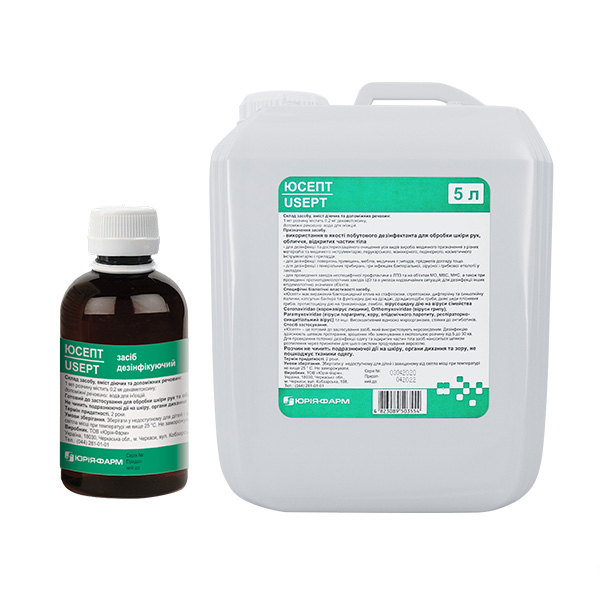 Yusept – change your view on hand treatment.
Do you know that certain conditions are necessary for effective hand antiseptic treatment?
Solution for treating hands should have a broad spectrum of action;
The processing time must be at least 30 seconds;
The amount of hand sanitizer should be at least 3 ml.
The plan looks like this:    


Yusept is a disinfectant.
The composition of the product:
1 ml of solution contains 0.2 mg of decamethoxin.
Excipients: water for injection.
The drug release form of 200 ml or 400 ml allows you to freely pour 3 ml of the product into the palm recess for effective hand treatment.
Form of release and physical and chemical properties of the product: disinfectant "Yusept" is a transparent, colorless solution, ready to use.
Yusept does not damage medical products and objects that are made of metal and glass
Yusept does not irritate the skin, respiratory system and eyes,
Yusept does not damage the fabric of clothing.
Specific biological properties of the agent.
"Yusept" has a pronounced bactericidal effect on staphylococci, streptococci, diphtheria and Pseudomonas aeruginosa, capsular bacteria and fungicidal effect on yeast, yeast-like fungi, pathogens of epidermophytosis, trichophytosis, microsporia, erythrasma, some types of mold fungi, trichomonas, lamblia, viral action on viruses of the family Coronaviridae (human coronovirus), Orthomyxoviridae (influenza viruses), Paramyxoviridae (parainfluenza viruses, measles, mumps, respiratory syncytial virus), Togaviridae (rubella virus), Flaviviridae (Ebola virus), Herpesviridae (varicella-zoster virus, infectious mononucleosis).
Highly active against antibiotic-resistant microorganisms.
Forms resistant to decamethoxin are formed slowly and in small quantities with prolonged use.
Bacteriostatic (fungistatic) concentrations are similar to its bactericidal (fungicidal), virucidal, protistocidal concentrations.
Other drugs in this category