Tivortin® aspartate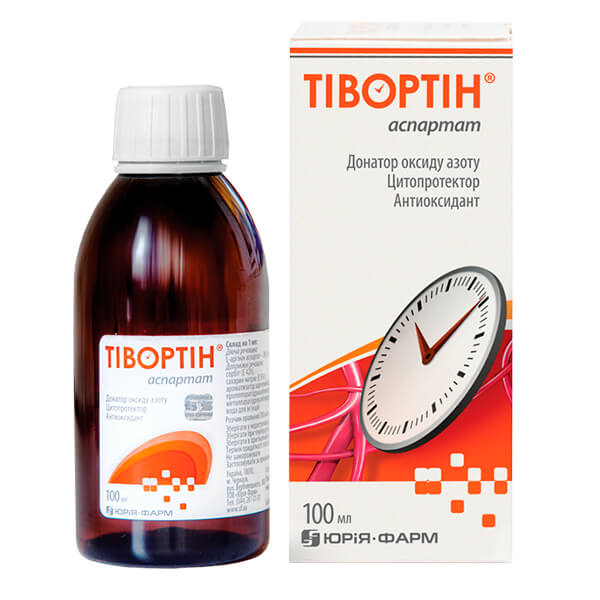 Nowadays, it is hard to find a physician who does not know that nitric oxide (NO) is a universal mediator in regulation of cellular functions and intercellular communication.
Numerous scientific studies have proven participation of NO in numerous physiological processes, and primarily, in relaxation of vascular smooth muscles.
Active substance formulated into Tivortin® ‒ L-arginine amino acid , is essential for children and the elderly, as after 50 years its synthesis is gradually reducing.
L-arginine amino acid is the only substrate for NO synthesis in human body.
Many diseases are associated with severe NO synthesis or release disorder:
arterial hypertension;
atherosclerosis;
coronary heart disease;
bronchial asthma;
pulmonary hypertension;
obliterating leg vessels diseases;
impotence (erectile dysfunction).
Xylat-Tivortin course Life Extension
40+ is a wonderful age to discover yourself, to accept your body as the greatest value, but this age is special.
During this period of life, a woman needs additional care: energy saturation, acceleration of metabolism, improvement of microcirculation of tissues and organs to normalize their work and prevent the development of cardiovascular diseases.
Xylat-Tivortin course is designed specifically to improve the quality of life of women.
Xylat-Tivortin course Life Extension:
provides energy and emotional uplift
raises the standard of living and improves the women status at menopausal age
reduces the manifestations of menopause
edema decreases, due to which body weight decreases
The mechanism of influence of the Life Extension course on a woman's body:
restoration of energy metabolism in cells
improving carbohydrate metabolism
support of vascular endothelial function
improvement of microcirculation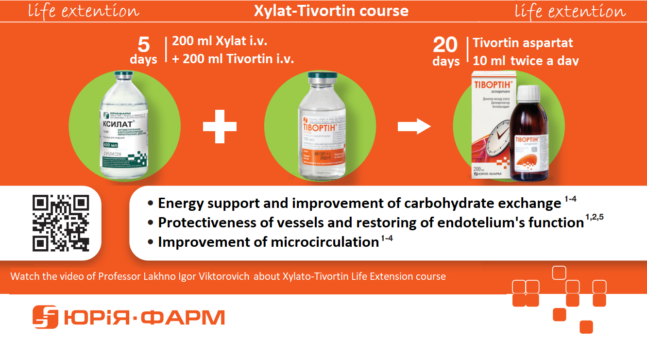 Watch the video report (in Ukrainian) of Professor Lakhno Igor Viktorovich about Xylato-Tivortin Life Extension course (from 18:35 minute):
See the instructions for medicines included in the Xylat-Tivortin course:
Xylat || Tivortin || Tivortin aspartate

Sales markets
Azerbaijan, Georgia, Kazakhstan, Kyrgyzstan, Moldova, Tajikistan, Turkmenistan, Uzbekistan.
Instruction
PACKAGE LEAFLET:
INFORMATION FOR THE USER
TIVORTIN ASPARTATE
ORAL SOLUTION
Read all of this leaflet carefully before you start using this medicine because it contains important information for you.
Keep this leaflet. You may need to read it again.
If you have any further questions, ask your doctor or pharmacist.
If you get any side effects, talk to your doctor or pharmacist. This includes any possible side effects not listed in this leaflet.
What is in this leaflet:
What Tivortin aspartate is and what it is used for
What you need to know before you use Tivortin aspartate
How to use Tivortin aspartate
Possible side effects
How to store Tivortin aspartate
Further information
1. What Tivortin aspartate is and what it is used for
TIVORTIN ASPARTATE is an oral solution given. The product contains amino acid (component used to build proteins) in a bottle. He is converted in the body into a chemical called nitric oxide. Nitric oxide causes blood vessels to open wider for improved blood flow. L-arginine is an essential amino acid that may play an important role in the treatment of heart disease, pulmonary diseases and other. L-arginine also lowers cholesterol, stimulates the release of growth hormone, insulin, and other substances in the body.
2. What you need to know before you use Tivortin aspartate
Do not use Tivortin aspartate:
if you are allergic (hypersensitive) to the ingredients of this medicine (listed in section 6)
if your body has problems using amino acids
if you have a serious kidney disease
if you are in an unstable condition, such as metabolic acidosis (a disturbance resulting in too much acid in the blood)
if you have or have had a myocardial infarction
Warnings and precautions
Talk to your doctor before using Tivortin aspartate if you have:
kidney problems
diabetes mellitus
electrolyte exchange disruptions
angina pectoris (chest pain)
hereditary fructose intolerance (HFI) or an intolerance to some sugars
If you during reception get fever, rash, swelling, difficulty in breathing, chills, sweating, nausea or vomiting, tell the health care professional immediately because these symptoms might be caused by an allergic reaction.
Your doctor may regularly need to check your blood for kidney function tests and other values.
During the medicine therapy, a balanced sleep and rest regimen should be adhered to, and no use of alcohol, nicotine and psychostimulants is allowed.
If asthenic symptoms increase concurrently with the medicine therapy, the latter should be ceased.
Children and adolescent
Tivortin aspartate is not meant for newborn babies or children.
Other medicines and Tivortin aspartate
Tell your doctor if you are taking, have recently taken or might take any other medicines, even without prescription.
Please inform your doctor or pharmacist if you are taking amynophyllin or spironolactone.
Tivortin aspartate is incompatible with thiopental.
Pregnancy and breast-feeding
Data from using Tivortin aspartate during pregnancy or breast-feeding is lacking. Tivortin aspartate should therefore be given to pregnant or breast-feeding women only if the doctor finds it necessary. The use of Tivortin aspartate may be considered during pregnancy and breastfeeding, as advised by your doctor
Driving and using machines
No effect.
3. How to use Tivortin aspartate
Always use this medicine exactly as your doctor has told you. Check with your doctor if you are not sure.
Your doctor will decide on the dose for you individually depending on your body weight and function.
If you use more Tivortin aspartate than you should check with your doctor.
4. Possible side effects
Like all medicines, this medicine can cause side effects, although not everybody gets them.
pain in a joint
slight discomfort in the stomach
slight discomfort in the intestine
nausea
hypersensitivity reactions (that can give symtoms like bronchospasm, swelling, fever, fall in blood pressure, skin rashes, wheals (raised red areas), flushing, headache)
hyperkalemia (high level of potassium in your blood)
If you get any side effects, talk to your doctor or pharmacist. This includes any side effects not listed in this leaflet.
5. How to store Tivortin aspartate
Store below 30 °C in a dry, dark place. Keep out of reach of children. Shelf life of an open vial is 14 days. Do not freeze!
Do not use this medicine after the expiry date which is stated on the label on the bag and box. The expiry date refers to the last day of that month.
6. Further information
What Tivortin aspartate contains
The active substance is L-arginine aspartate .
5 ml of solution contain 1 g of L-arginine aspartate (0.57 g of L-arginine, 0.43 g of asparagic acid);
excipients: sorbitol (E 420), sodium saccharin (E 954), methylparahydroxybenzoate (E 218), propylparahydroxybenzoate (E 216), food flavouring Caramel, purified water.
What Tivortin aspartate looks like and contents of the pack
Solution is transparent, light yellowish liquid with a characteristic caramel odor, slightly sweet.
Pack sizes:
100 ml and 200 ml polymer vials. 1 vial in a carton.
Marketing authorisation holder
«Yuria-Pharm» LLC
10, M. Amosova street, Kyiv, Ukraine, 03680
Tel.: +38 (044) 275-92-42
Manufacturer
«Yuria-Pharm» LLC
108, Kobzarska street, Cherkassy, Cherkassy region, Ukraine, 18030
Tel.: +38 (044) 281-01-01
Local Technical Representative (LTR)
HARLEYS LTD-NAIROBI
Date of last revision: January 2021
The following information is intended for healthcare professionals only:
Method of administration
The medicine is administered orally, during meals.
1 measuring spoon (5 ml) contains 1 g of the medicine L-arginine aspartate or 0.57 of L-arginine.
In adults with coronary and cerebral atherosclerosis, peripheral vessel atherosclerosis – 5 ml,
3–8 times daily. In patients with hypercholesterolemia, arterial hypertension – 5 ml, 3–6 times daily. In patients with chronic obstructive pulmonary diseases, pulmonary hypertension – 5 ml, 3–6 times daily. In patients with asthenic states – 5 ml, 4–8 times daily. The maximum daily dose is 8 g.
Therapy duration is 8–15 days; the course is repeated if necessary.